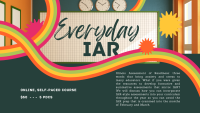 Illinois Assessment of Readiness: three words that bring anxiety and stress to many educators. What if you were given the resources to develop formative and summative assessments that mirror IAR? We will discuss how you can incorporate IAR-style assessments into your curriculum throughout the year so you can avoid the IAR prep that is crammed into the months of February and March. We will explore the "big ideas" behind IAR prep, provide you with resources to make assessment creation easier, and, finally, allow you the time to create your own IAR-style assessments. You already have engaging lessons and ongoing assessments in your classroom, so join us as you modify, borrow, and restructure the excellent work you are already doing to help your students prepare for the IAR test!
Presented by Elizabeth Hand.
This is a self-paced online course. Participants must complete ALL required coursework within 60 days to receive their PDCs. Partial PDCs will not be awarded. Enrollment registration fee is non-refundable!
Purchase order instructions: Prior to course enrollment, ROE 4 must have a copy of the approved purchase order on file before the official course start date. If approved PO is not received prior to start date, as a one-time courtesy, ROE 4 will enroll registrants in to the next section of the course. If POs are not received with two course cycles, participant registration will be canceled.