Tech Takeout: Librarian Edition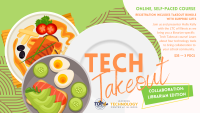 We are excited to bring a new edition of our online course, Tech Takeout, to the world of library science! Learn about educational technology applications that will help your students and staff collaborate in effective and creative ways. Participants will have access to training videos, practice samples, and additional resources for Jamboard, Dotstorming, Padlet, and Flip. Join us for this unique and fun professional learning, including a takeout bundle with two surprise gifts inside -- one courtesy of Nunzio's, Loves Park, IL!
Materials developed and presented by Holly Kelly of the Learning Technology Center of Illinois.
Participants will receive a takeout kit with the following:
Takeout Menu - which lists the course requirements: Main Course, the Apps, and Something Sweet
Access to the Tech Takeout Virtual Canvas course
A takeout-themed surprise
A special offer from a local restaurant
Registrants will be able to pick up their takeout kits from the Boone-Winnebago Regional Office of Education. A welcome message will be sent before the course starts with pickup information.
This is a self-paced online course. Participants must complete ALL required coursework within 60 days to receive their PDCs. Partial PDCs will not be awarded. Enrollment registration fee is non-refundable!
Purchase order instructions: Prior to course enrollment, ROE 4 must have a copy of the approved purchase order on file before the official course start date. If approved PO is not received prior to start date, as a one-time courtesy, ROE 4 will enroll registrants into the next section of the course. If POs are not received with two course cycles, participant registration will be canceled.
Event Properties
| | |
| --- | --- |
| Event Date | 04-14-2023 |
| Event End Date | 06-13-2023 |
| Cutoff date | 04-12-2023 12:00 pm |
| Individual Price | $35.00 |
| Contact Hours | 3 |
| Credit Options | Professional Development Credits (PDC) |
| Location | Online |